Berteled™ is based on a revolutionary concept, as it's designed to display video images on large outdoor surfaces in full daylight.
Berteled™ is a video display consisting of a mesh of stainless steel wires, at the intersections of which are hyper-pixels.
It is therefore very different from the traditional screens that we are used to seeing in stadiums or squares, consisting of rigid boards.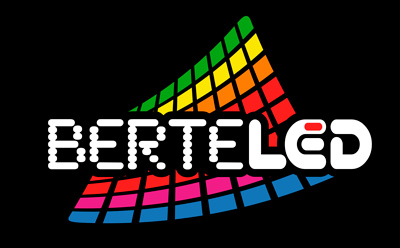 The reliability and quality of Berteled™ are ensured by the company's thirty years of experience in designing and manufacturing LED screens.
Berteled™ has been designed to cover large areas of buildings. It differs from other solutions insofar as, despite being a semi-transparent product, it is positioned outside. It is suitable for both fixed and temporary installations (e.g. hanging from a crane).
Construction concept
Berteled™ has a modular structure. Each module consists of a metal cylinder, which contains the electronic components. Long stainless steel wires are connected to these cylinders, to which the hyper-pixels are attached.
Lightness
Its structure, made of steel wire, offers the best ratio between weight and mechanical resistance. Berteled™ is therefore characterized by an exceptional surface to weight ratio.
Thanks to its extreme lightness, it can be suspended and, where necessary, also fixed at the bottom.
It can be placed between two buildings, under an airship or, if positioned horizontally, it can even form the vaulted ceiling of a structure.
Brightness
Each light element has been designed to be visible in full daylight. Reliability over time is a key characteristic of the construction concept. For this purpose, every single hyper-pixel is equipped with natural internal ventilation that prevents overheating in the sun and increases the benefits and durability of the excellent LED used.
Contrast
Maximum attention has been given to counteracting the intense sunlight. The hyper-pixel is equipped with a large canopy that shields the LED emitters from the sun, while maintaining excellent visibility from any position you look at it.
Flexibility and Semi-transparency
Being built on a flexible structure, Berteled™ adapts to any surface on which it is placed, even curved.
Depending on the model, the non-transparent area covers only 1/5 to 1/10 of the entire surface.
Robustness
Berteled™ is lightweight but extremely robust, thanks to its structure consisting of a mesh of steel wires. This special metal wire consists of a copper core and a stainless steel outer part. This kind of cable combines the strength of stainless steel (400 kg per cable) with the excellent electrical conductivity of copper.
Resolution
Berteled™ is available in a range of versions, each with different visual resolutions. For each installation, you can choose the most suitable visual resolution.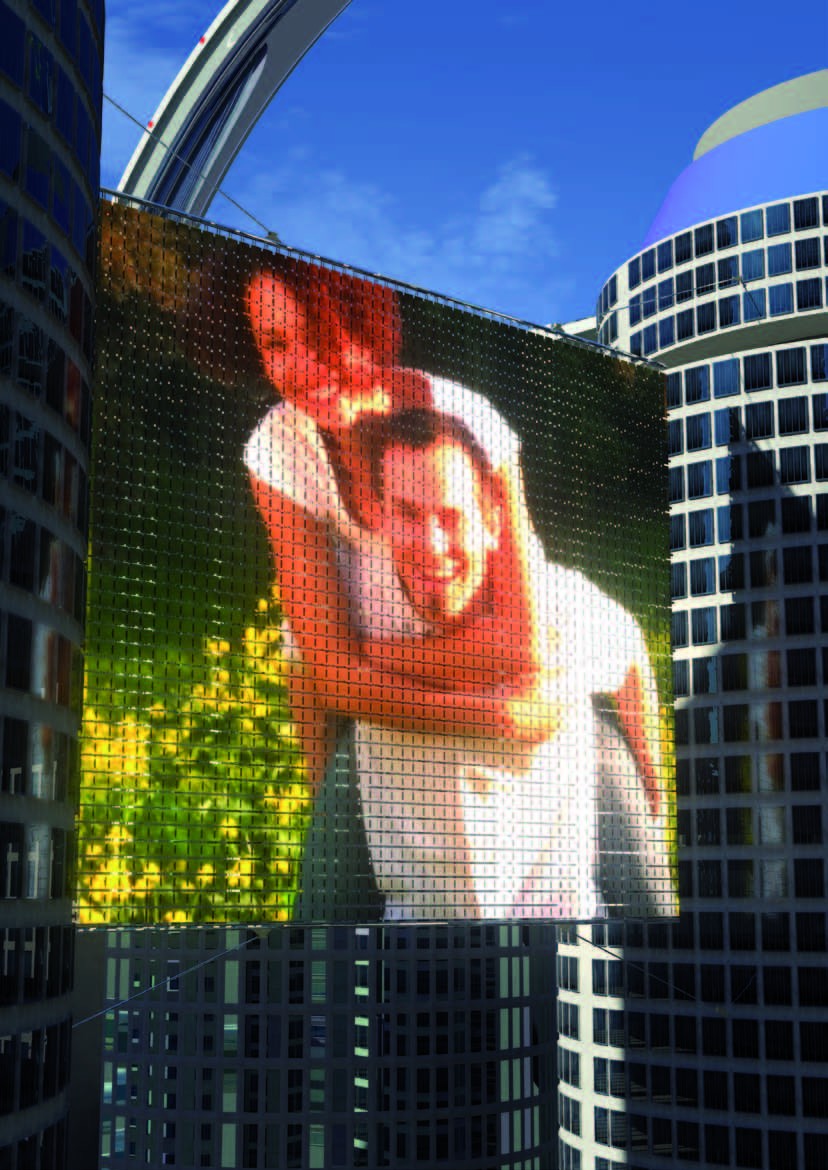 Double-sided screen
Berteled™ is available as a double-sided version, providing a display area on both sides.
Easy maintenance
In designing Berteled™, we paid special attention to maintenance.
Central tube: can be opened on two sides for easy access to internal components. Each tube is equipped with only one control circuit board, which can be easily replaced.
Pixel: any damage to a single element can be easily repaired. The pixel shell can be opened and the light element can be replaced.
Each LED can be easily replaced, since it is not immersed in a sealing resin that prevents its removal.
Berteled™ is a worldwide patented product.