A NEW GENERATION VIDEOCUBE THAT INTRODUCES THE SPECTACULAR 360° COMMUNICATION.
In addition to the classic visualization on four large screens, we installed four additional screens (positioned on the corners). Thanks to the special construction technique, this allows to reproduce multimedia and video content on the entire circular surface. The screens merge seamlessly, allowing the display of images or advertising video clips in a single, spectacular 360° information and amplifying both the technical and advertising message.
In "8 faces" mode, on the other hand, there are various possibilities for visualizations. For example, the main screens can show live game and replays, while the corner screens show players scoring or committing a foul.
A strong emotional impact is guaranteed!
MODULAR AND CUSTOMIZABLE LED WALLS
The innovative and original shape of a 360Videocube gives indoor sports arenas a distinguishing feature. This is the reason why we like to customize our products, listening to our customers and giving shape to their proposals and ideas.
ULTRA LIGHTWEIGHT LARGE SCREEN HANGING FROM THE ROOF
Our type of construction is aimed at creating a spectacular but extremely lightweight product. This attention to weight allows us to install 360Videocubes, even large ones, in virtually any structure.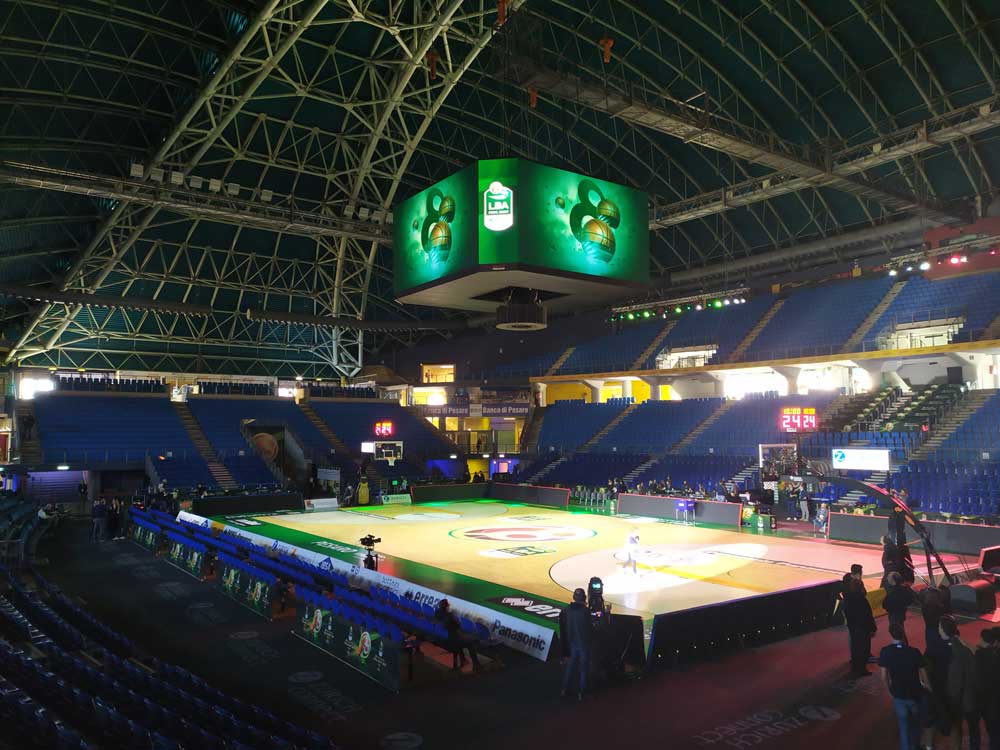 LED WALL MANAGEMENT SOFTWARE
Without a talented driver, even the most powerful Formula 1 car will hardly win any race. Similarly, our 360VideoCube, without a powerful and intuitive software, would be underutilized. For this reason, we have developed the software "Together™", specifically designed to unleash the potential of our beautiful product.
VISIT THE DEDICATED WEBSITE
EMOTIONS AT 360°
A state-of-the-art multipurpose multimedia solution already chosen and installed in important national arenas (Paladozza in Bologna, Allianz Cloud in Milan, Vitrifrigo Arena in Pesaro)
Speed of installation
65%